Welcome to Viewpoint Eyecare
Your Optometrist in Farmington, UT.
---
Now Open and Accepting New Patients!
Come see the new office and meet the doctor and staff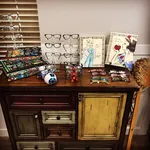 Welcome to Viewpoint Eyecare in Farmington. Dr. Andrew Bibo and the Viewpoint Eyecare team strive to provide the finest in optometry services. We invite you to browse our website to learn more about our optometry services, and invite you to join our patient family by scheduling an eye exam appointment at our Farmington office.
Viewpoint Eyecare is a full service eye and vision care provider and will take both eye emergencies as well as scheduled appointments. Patients throughout the Farmington area come to Viewpoint Eyecare because they know they will receive the personal attention and professional care that is our foundation. Dr. Bibo and our team are dedicated to keeping our patients comfortable and well-informed at all times. At Viewpoint Eyecare, we will explain every exam and procedure and answer all of our patient's questions. Additionally, at Viewpoint Eyecare, we proudly accept CareCredit and will work with vision insurance providers to ensure good eye health and vision care for all of our patients.
Office Hours
Monday Tuesday Thursday Friday 9:00am -5:30pm Wednesday 9:00am-7:00pm
Our Approach to Optometry
Our one-on-one approach to optometry makes Dr. Bibo and the Viewpoint Eyecare staff the eye and vision care providers of choice in the Farmington area. Our Farmington optometrist offers the following services: complete eye exams, contact lenses, glasses, glaucoma testing, and pre- and post-operative care. For a complete list of services, visit our services page or call our Farmington office at (801) 9233145.
At Viewpoint Eyecare, we are dedicated to providing high-quality optometry services in a comfortable environment. Online scheduling for an appointments will soon be available.
Insurances Accepted
Viewpoint Eyecare works with a number of Medical Insurances and Vision plans here are some that we currently accept (don't see your insurance company, give us a call and see what we can do for you): Cigna, United Healthcare, PEHP, VSP, Eyemed, Opticare
Payment Methods
Dr. Andrew Bibo
Farmington Optometrist | Viewpoint Eyecare
991 Shepard Lane
Farmington, UT 84025